The Future of Work
3D Spatial Collaboration Tools
We are social beings. We thrive on collaboration and group environments. As the nature of work is shifting to a digital realm, how do we keep the connections that make business thrive?
Collaborative spatial virtual tools provide a new tool for companies to connect to their customers and keep their teams aligned. One of virtual reality's strengths is the ability to make people who are a world apart feel closer together.
Collaborative spatial VR tools are like the video conference on steroids. Imagine being in a virtual space that transports you to a new environment.
You are there with other colleagues or customers where you can interact with the 3D environment. Speak and see your customers either through video chat screens or virtual avatars.
Manipulate 3D objects, bring in traditional collaboration tools such as PDFs, videos, and screen sharing tools.
The virtual 3D environment speeds design processes, sales cycles and overall productivity.
Make that all-important personal connection in a 3D spatial environment in a way no other digital product can achieve.
Contact Us
Multi-Platform Deployment
No VR Goggles, no problem. We have you covered.
VR Goggles are the most immersive and realistic method for the experience.
VR naturally concentrates attention and focus.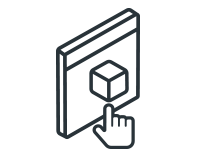 Interact with the spatial experience using a 2D web interface and desktop computer.
Keyboard and mouse controls enables the interaction and movement through the environment.
Connect from anywhere using your mobile phone and a web browser.
Click a link and you connect to the collaborative space in 2D mode.
Customized Environments For Connection & Productivity
3D Content Creation & Design For Your Collaboration Tools
We are content creators that shape virtual experiences to the needs and objectives of our clients. From building out 3D environments and objects to designing the user interface and experience in VR, we are here to design and translate your collaboration needs into an interactive 3D spatial tool.
First we examine your marketing & sales goals: are you looking to educate or increase brand awareness? We gather information from key stake holders and begin to formulate the experience including functionality and layout.
At this step we quickly mock-up the key elements to the experience. Where elements will be in space, how menus will function, etc. And we begin to see how the system will work. We like to create basic protypes early so identify problem areas and highlight priorities in functionality.
We create and optimize unique and customized 3D environments and objects for your virtual tool. We optimize existing 3D product models for a streamlined experience that doesn't weigh down the application.
3D spatial virtual environments require specific considerations when it comes to User Interface Design. We take best practices and user testing together to develop our UI design so the experience is clear, simple and intuitive.
We fully program the functionality of your collaborative tool from triggering animations to programming interactions and pop-up information labels.
We do extensive testing across multiple devices to ensure the experience performs as expected. The testing process is iterative and ongoing throughout the development of the tool.
Custom Built 3D Sales Tools
Why Collaboration and Sales in 3D Spatial Reality is so Effective
Personal relationships and connections are key to business success especially when it comes to sales.
As we transfer to a digital-first business environment that personal touch of a sales call will need to be replaced with some equally effective tool.
Meeting in a 3D virtual spatial environment with the ability to share, communicate in real time and explore new products and ideas is a ground breaking advance to digital work.
Once you try it, you will see it really is the future of work.
Learn more about collaborative spatial tools.
Recent AR/VR & Interactive 3D Projects