Cisco's Ruggedized Security Appliance Overview Video
Security For The Industrial Market
As part of a series of animated overview videos for Cisco, this video specifically targets the industrial infrastructure market's need for better cyber security. Incorporating the larger campaign design elements of the hexagon shape and the spiky protection that evolves out of the device, this video specifically shows the tough conditions that appliances must operate.
We utilized the expansive landscape of hills and snow-capped mountains to give the feeling of remoteness and touch environmental conditions. The environment is surrounded by fields of data represented by the discs of particles that surround the structures.
The firewall device sits between the critical infrastructure and the threats coming in from the network and internet as a whole. It stands like a sentinel warding off oncoming attacks.
Project
Cisco ASA Firewall
Video Marketing Campaign

What We Did
Concept, Script Writing, 3D Modeling/Texturing,
Animation, Motion Graphics, Sound Design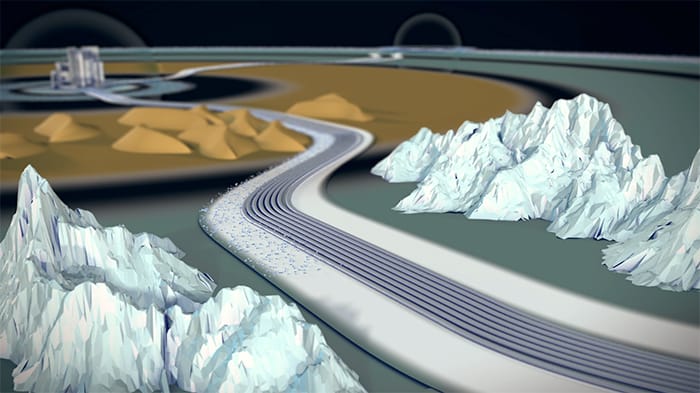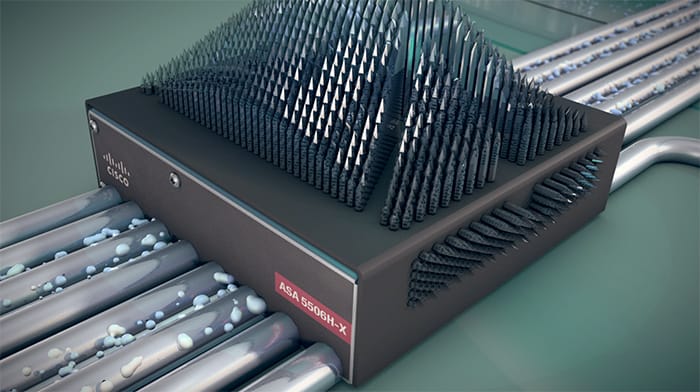 Security In The Harshest Environments

Developing The Concept
While conceptualizing this video, we knew that the main themes of harsh  and remote environments needed to take center stage. Using cold colors and landscapes we portrayed the idea of difficult, remote environments that need protection from sophisticated cyber attacks.
The steel tubes of the physical infrastructure that connect the cities to critical resources also represent the flow of information that can potentially be compromised resulting in a crippling loss of physical security. The threat to security, both physical and digital were blended in the visual elements of the refinery and its pipes along with the discs of digital information that surround it.
Cisco ASA 5600 Firewall Integrated Marketing Campaign
A Series Of Animated Product Videos And Interactive Apps
This video is part of a 3 video and integrative app campaign that highlights the five small to medium sized firewall products as well as a couple of products directed at the larger enterprise. Each video needed to appeal to a different target audience with different security requirements.